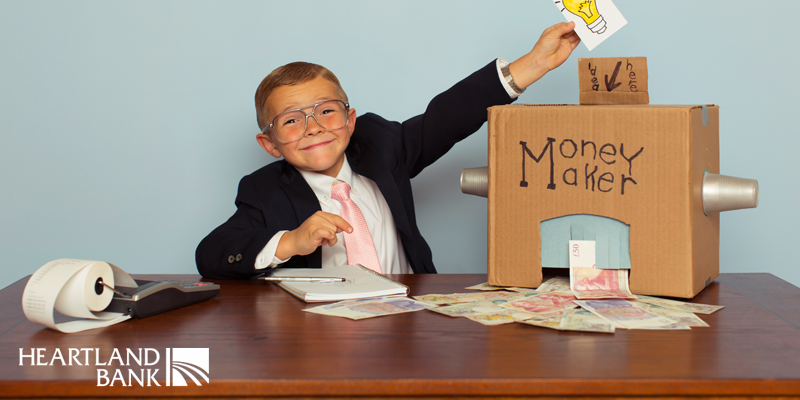 Are sugar plums or dollar signs dancing in your little one's head as they dream about the holidays? At Heartland Bank, we say, "why not both?"
As you budget and buy for this upcoming season of celebrations, make it a family affair and teach your kids about the value of financial planning. It's the perfect opportunity for them to see tracking, spending, saving, and giving of resources in action. Bring them into the process with these kid-friendly pointers.
Create a budget: Squeeze the most magic out of the holidays by creating a battle plan. Let the kids listen as you and your partner settle on a budget for the month, breaking it down into categories like food, gifts, parties, and decorations. Once they understand how to build a budget, turn them loose to make one of their own, allotting a dollar amount on gifts for each person on their list.
Get crafty with gifts: Try your hand at homemade gifts this holiday season. Presents range from thoughtful cards, favorite family recipes, home baked goods, and more! Many of these gifts can be created with supplies lying around the home or purchased for cheap. Your kids benefit when they unleash their creativity and see the thoughtful effort of a gift crafted by hand.
Shop smarter: Share the experience of household budgeting your kiddos this winter. When you head to the grocery or department store, be upfront about how much you plan to spend on what purchases and why. With that knowledge in mind, they can help you spot sales as your cruise the aisles. Turn your shopping adventure into a game by challenging them to find the best deal or most creative alternative. Bonus points for paying with cash to give them practice counting money and deducting coupons!
Give, give, give: It's better to give than to receive, and the holidays are the perfect opportunity to show your kids this principle in action! Build on this lesson in empathy by choosing an organization like Toys for Tots or Operation Christmas Child to purchase gifts for a child in need. Have your child help pick out and deliver the purchase to experience the joy of giving firsthand.
Make the holidays the most wonderful time of year for you and your children, as well as those around you. Heartland Bank is always here to help your family make the most of your financials to start you strong in the New Year! For more information about our financial planning services, give us a call to get connected with one of expert advisors.