By Darcy Dougherty Maulsby
Pomeroy—When John Rosenboom finished eighth grade, his father, Steve, asked him if
he wanted a car. Since the answer was yes, the pair went to the Garber-Birkey
Implement Company in Pomeroy, where the younger Rosenboom was introduced to Ken Garber and landed his first off-farm job.
"I worked there all through high school," said Rosenboom, 37, who used some of his earnings to buy a 1966 Dodge Coronet 440 for a couple thousand bucks. "It was a blessing to be born into a family who taught me early on these financial lessons, which have served me well."
Farming, finance and family remain priorities in Rosenboom's life and career. In addition
to row-crop farming in the Pomeroy/Manson area, where his family has lived and worked in
Calhoun County's Sherman Township since the 1880s, Rosenboom also serves as a vice
president and crop insurance sales specialist in Manson at Heartland Bank, which has been
family-owned for 117 years.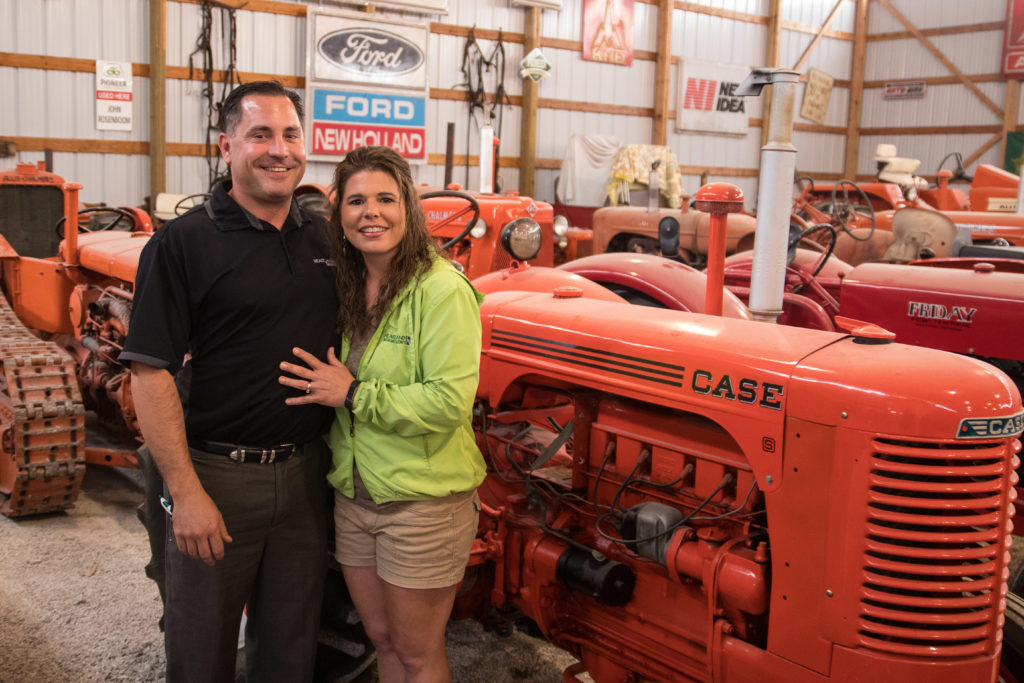 "Banking works well with farming," said Rosenboom, who is more likely to meet his customers in their tractors or combines than in his office. "Because I farm, I go through the same joys and pains as my customers. I make myself available outside of banking hours to work around their busy schedules."
Moving from IT to banking
While farming has always interested Rosenboom, a banking career wasn't his priority when he graduated from Pomeroy-Palmer High School in 1998. Rosenboom opted to earn his degree in information technology (IT) at Kirkwood Community College and start his career in eastern Iowa.
Rosenboom worked in IT for Unverferth Manufacturing Co., which serves the ag industry, and later Ag Partners in Albert City, bringing his family closer to the Calhoun County family farm.
When his family's ag lender, Steve Wickett from Heartland Bank, was nearing retirement, he encouraged Rosenboom to consider a career in banking, Rosenboom was intrigued by the possibility of a career closer to the farm. In 2010, he made the career switch from IT to ag lending at Heartland Bank and never looked back.
"Banking is a rewarding career," said Rosenboom, who has attended numerous ag credit
schools and commercial banking classes to expand his knowledge. "In my experience, 99 percent of doing business with people is trust. It's like a marriage in that respect."
Who is Rosenboom's ideal customer? "Someone who is a critical thinker and hard
worker who understands the value of diversification and good management. It's rewarding to see younger farmers build their net worth and watch their families grow."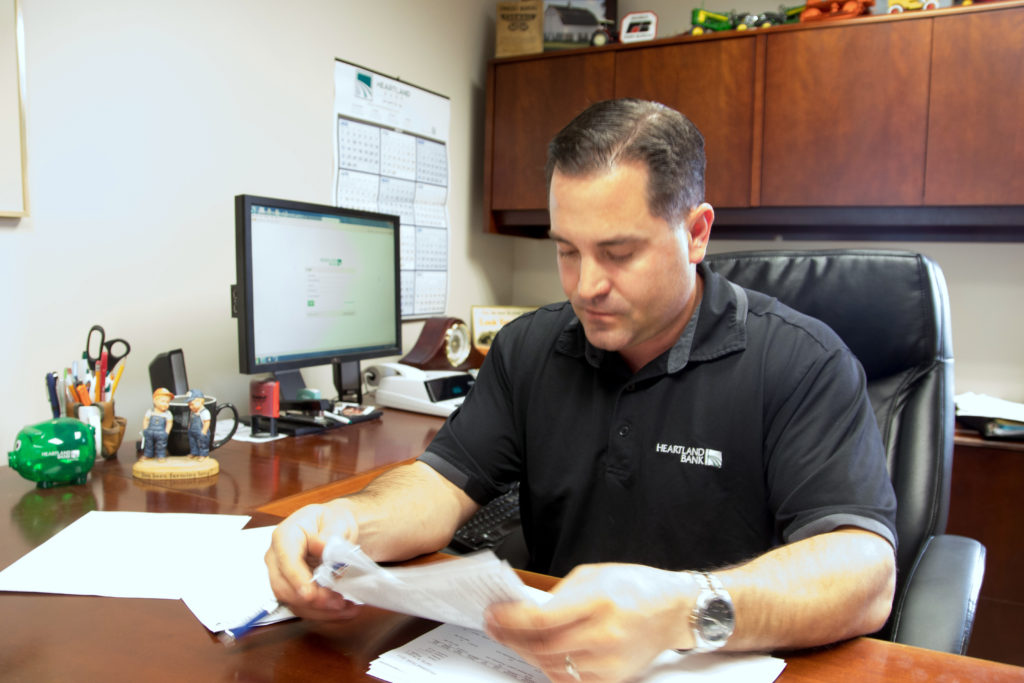 Heartland Bank understands the importance of family and community, added Rosenboom, who serves clients from Des Moines to the Okoboji area. "The neat thing about working for a family-owned bank is that I have a lot of freedom," said Rosenboom, who specializes in ag and commercial loans. "Some things that might take a week or more at a larger bank can often get done in a day here."
The bank also finds ways to add more value for its ag clients. Heartland Bank offers
GrainBridge, a sophisticated financial tool that helps farmers track expenses, previous sales,
marketing options, what-if analyses and more. "We bring new solutions to our clients,"
Rosenboom, who uses GrainBridge to track his own break-evens on a field-by-field basis.
Crop insurance is another key part of successful farm business management. "It's
essential to the financial stability of American agriculture," said Rosenboom, who serves as
secretary on the Calhoun County Farm Bureau board.
Rosenboom is a tremendous asset to the board, noted Terry Seehusen, regional manager for the Iowa Farm Bureau Federation. "John is a talented, outgoing young farmer who keeps a finger on the pulse of the ag economy as an ag lender. He's also knowledgeable about current events and legislative issues, plus he's willing to volunteer his time to benefit agriculture, which is a huge benefit."
Honoring the past, focusing on the future
Just as Rosenboom focuses on financial sustainability, he and his family also make
environmental sustainability and conservation top priorities on their Calhoun County farm.
"We planted 268 trees this spring to help keep the soil in place, and our filter strips along the creeks also help protect the soil," said Rosenboom, a fifth-generation farmer. "We want to be good stewards of the land. It's amazing to work the same soils my great-great-grandfather farmed with horse-drawn equipment."
This sense of heritage is also reflected in other ways for the Rosenbooms, who have four children and are long-time members of St. John's Lutheran Church in Pomeroy, just like previous generations of their family. Rosenboom credits his parents, Steve and Rachel, with instilling in him the importance of preserving history while focusing on the future. This spirit is reflected not only in the family's collection of vintage tractors and their interest in the annual Albert City Threshermen and Collectors' Show, but in their desire to give back to the community.
"A strong ag industry and strong community banks like Heartland Bank are imperative to the success of our local communities," Rosenboom said. "I plan to build my career here, keep farming and grow old here, close to my family. I wouldn't have it any other way."