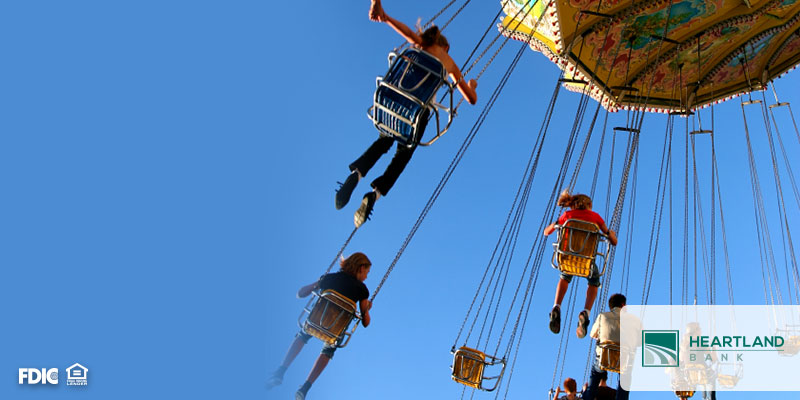 The fair is coming the fair is coming! Starting August 5, swarms of eager Iowans will descend upon the city of Des Moines for the annual Iowa State Fair. This long awaited tradition is a culmination of the year's best culinary, entertainment, and educational endeavors. This fair season take note of these key activities to try, along with the top things to avoid, courtesy of Heartland Bank.
This year be sure you DO:
Sample the various food offerings throughout the fair including the famous Hot Beef Sundae, Pork Chop on a Stick, Classic Lemonade, and exciting NEW treats!
Watch family fun competitions encompassing everything from Mutton Bustin' to Diaper Derbies. Join the fun and sign up for the event that plays best to your strengths.
Walk through the various livestock and produce areas to see the biggest and best of what Iowa farmers have produced. Between the biggest bull and largest pumpkin contest, you'll be surprised at what Iowa farmers can do!
Help you children understand the importance of agriculture by visiting Little Hands on the Farm in the Kid's Zone! This interactive experience will teach them the various chores farmers complete on a day-to-day basis.
Catch a once in a lifetime show at in the fair's Grandstand Arena. With artists like Meghan Trainor, Jason Derulo, KISS, and Lady Antebellum, this year's line-up will be a winner!
This year be sure you DON'T:
Miss the butter cow and other dairy made sculptures. This unique Iowa tradition immortalizes various pop icons each and every year! Be sure you and your family stop to take a look!
Get lost! Check out the site's mobile friendly map to help navigate your way across the busy fairgrounds. You can find the nearest bathroom on here too!
Leave your child unattended. With so much to do and see, make sure your entire family is with you while you venture from place to place. The fairground offers strollers and wagons to rent inside Grand Avenue Gate #11 and Gate #15.
Forget to drink water and wear sunscreen. Since most of the exciting fair activities are outdoors, protect yourself and your family by being proactively prepared.
MISS THE FAIR. Whether it's been five days or five years since you've been down to the State Fair, be a part of the action this year in Des Moines and come by! With so many incredible people, entertainment, and food, this is one annual event you won't want to miss!
During your trip to the Iowa State Fair, your account is never too far away. Set-up your online banking experience before you go for instant access to monitoring and managing your personal finances. Stop by the bank and get started today!