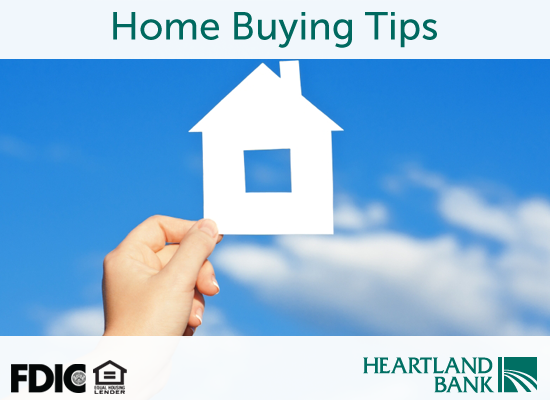 Buying a home is no small process. Whether you are looking to purchase your first home or have been through the process before, it can be complicated seem very intimidating. However, Heartland Bank is here to help simplify things as much as possible to help you better understand the ins and outs of buying a home.
You may hear a lot of new terms thrown around. Here a few common ones and what they mean:
Escrow account: If you have less than 20 percent to put down, it's likely you will need one of these. What this account does is take the expenses associated with the house– the principle of the loan, the interest, the insurance, the taxes– and pays the appropriate parties. You are then billed for the total amount each month, so your mortgage payment includes the taxes and insurance.
PMI: Private Mortgage Insurance is something you may have if you have less than 20 percent to put down on a house. This comes out of the escrow account every month, and the bank has you pay it to cover their losses in case you default on the loan. Often, the PMI is dropped once you have 20 percent of the principle paid off.
Closing costs: These are the scary-sounding costs that you often have to save up for. Not all closing costs include the same things, but they can often include the loan origination fee, attorney's fees, prepaid taxes, prepaid insurance, an assessment and a myriad of other things. Sometimes (but not always) you can negotiate to have the seller pay the closing costs.
While buying a home can seem like a scary leap, it has many benefits, both financial and personal. We here at Heartland Bank are here to help you and educate you every step of the way. Get in touch with one of our mortgage lenders today to see how we can help!
Heartland Bank, Member FDIC and Equal Housing Lender