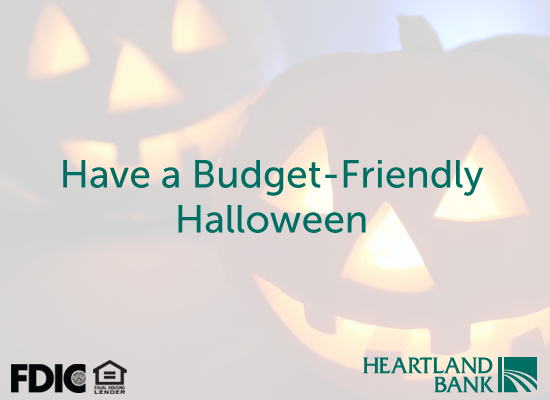 Fall is in the air, which means Halloween will soon be here, which also means something else: your kids' or grandkids' sugar intake will soon be increasing exponentially! But while their main concern is their costumes and candy, you have to look at the financial side of this unique holiday.
According to the National Retail Federation, the average American spends about $77 on decorations, candy and costumes each year. Spending an extra $77 doesn't seem like much, but it can make an impact on your monthly budget. Also, that number is an average, meaning there are people spending more and less than that.
Heartland Bank doesn't want you to be scared by Halloween costs this year! Save some cash with these helpful tips:
Make use of the dollar store:
Whether you are looking to make Halloween decorations or costumes, the dollar store is a great place to round up supplies to make your own crafts. If you don't have a dollar store near you, check out local craft stores for supplies and décor. Many craft stores offer coupons and deals, so be on the lookout for those as well. 
Purchase pumpkins last:
Waiting until just a few days before Halloween to purchase and carve your pumpkins could save you money. Many stores will put their pumpkins on sale as Halloween approaches to help sell their pumpkin inventory, so take advantage of these more affordable prices!
Look for free events in the community:
To avoid the high costs of putting on a Halloween party or even the costs of stocking up on candy, consider taking your family to a free Halloween event or activity in your community. Check your local library or newspaper for free Halloween events in your area.
Make your own costumes:
Buying Halloween costumes off the rack for the entire family will put you above the average $77 Halloween costs in a heartbeat. Just as it is less expensive to shop for decorations at dollar stores and craft stores, it is often times less expensive to make your own costumes. Use supplies that you already have to put together a great costume and buy just a few new pieces to complete your look.
Using some of these tips can help you have a great Halloween without breaking your budget. If you need a separate account to store your savings, stop by any Heartland Bank location today to learn about our savings accounts.
Heartland Bank
Equal Housing Lender
Member FDIC